StrataBugs examples in offshore wind turbine survey
It's been a long time since the last StrataBlog post because we've been busy working on v3.0, which is out for pre-release testing.
In the mean time, we'd like to share with you links to some examples of StrataBugs being used in a shallow borehole study. Usually reports of this kind are proprietary and not available for general distribution. In this case the Netherlands Enterprise Agency have made available reports from BioChron which we are able to showcase the use of StrataBugs v2.1. In this report there are a series of embedded charts showing a multi-disciplinary approach using environmental grouping to resolve shallow stratigraphy relationships in combination with other age dating methods. These boreholes are drilled to determine subsurface conditions for suitability of wind farm pylon placement in the Southern North Sea.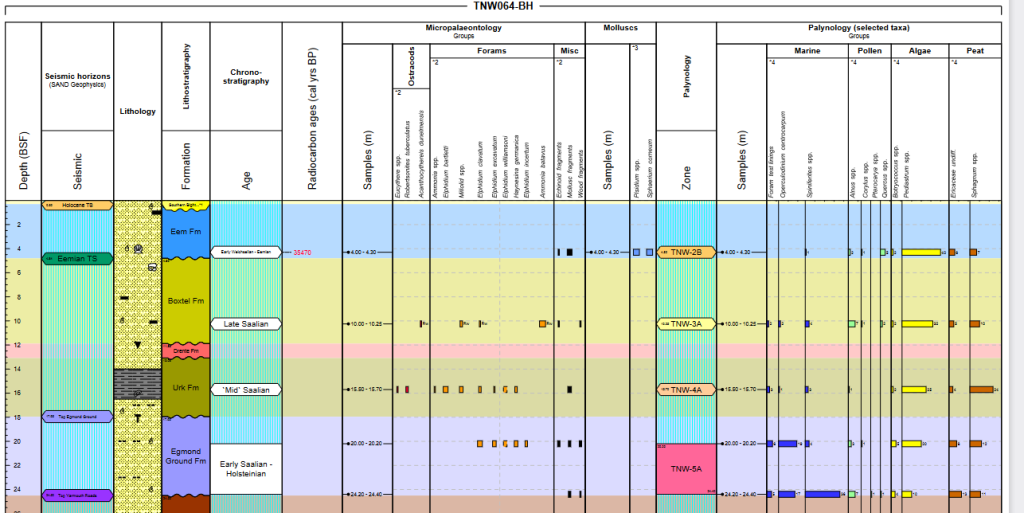 The reports are available from the links below. You will need to scroll down to the lower part of the reports to see the chart examples.
https://offshorewind.rvo.nl/files/view/976a1421-9ea2-4f42-9caa-1ea6c1eb82a1/tnw_20220210_gt_dating-analyses-geological-dating_fugro_f.pdf

https://offshorewind.rvo.nl/file/download/760792fb-0aef-4b85-b3de-c5d1d6f1140a/tnw_20220215_gt_dating-analyses-archaeological-assessment_fugro_f.pdf
Thank you to John Athersuch of BioChron Ltd. and the rest of his team, for sharing this with us. Further details are in the reports themselves.